Worth mentioning is the Squamish Windsports Society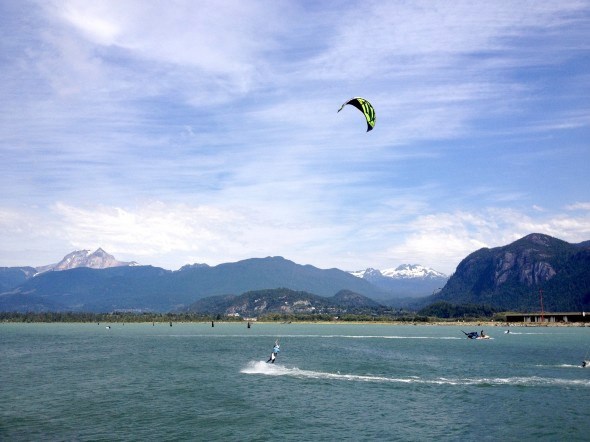 "I was appalled by the absence of any mention in the article regarding the impact of the Spit's removal on the wind sports community and any efforts to mitigate those impacts."
I was delighted to read the article that appeared last week in the Squamish Chief ["What is happening next at the Squamish Spit?" published Sept. 22]concerning the ongoing rehabilitation of the estuary.
Restoring our natural environment is essential to our long-term survival on this planet, and the ongoing efforts to restore the ecological carrying capacity of the estuary are a wonder to behold. Over the years, we have witnessed the transformation of dredged material and old log sorting from brownfield into productive tidal marsh. We are indebted to the dedicated professionals and many passionate volunteers in our community who have spearheaded these initiatives.
On the other hand, I was appalled at the absence of any mention in the article regarding the impact of the Spit's removal on the wind sports community and any efforts to mitigate those impacts. I'm not a windsurfer or kitesurfer, but I do know that the Spit is (or should I say "was") a world-renowned location that not only offers consistent winds and a great launching environment, but also a really unique for holding spectator-friendly events, one of its most outstanding features. The Spit has seen many national and international competitions attracting athletes from all over the world. Various members of Canada's Olympic team train at the Spit. The Squamish Sailing Society is an 800 member strong organization and, in my opinion, an integral and essential part of our community.
I was also told that the wind sports beach project currently under development in Sea side (Nexen Beach), while providing an adequate launch site, pales in comparison to the much more favorable conditions at the Spit. Also, the recent regulatory approval of Harbor Air's seaplane service from Squamish Harbor (the blind channel) would seem inconsistent with wind sports enthusiasts departing from the waterfront. I guess we'll just have to assume that this conflict perceived was taken into consideration.
I know that over the years the Windsports Society has made many proposals to work in concert with estuary restoration efforts. Of course, the solutions are complex, most likely expensive, with competing interests and jurisdictions, but that was not to be the win-lose outcome that now seems inevitable.
In my view, the primary responsibility for this avoidable and regrettable outcome rests with the mayor and council.
The lack of leadership in this regard is discouraging.
Jim Harvey
Squamish