USCG Boatswain Recognized for Daring Surf Rescue in Newport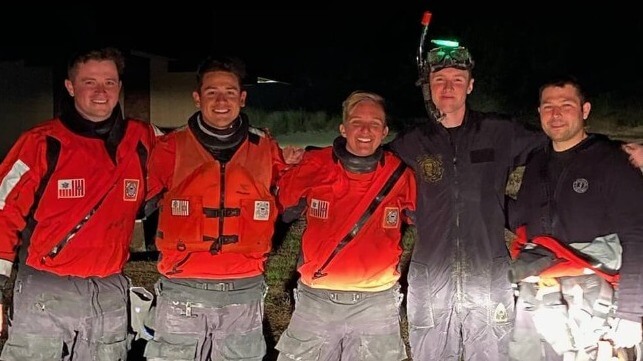 A Boatswain's Mate from Coast Guard Station Yaquina Bay, Oregon, received the Association for Rescue at Sea Gold Medal, the highest search and rescue award given to a member of the Coast Guard by a civilian organization. The award is presented annually to an enlisted member of the Coast Guard for an "extraordinary act of bravery in a rescue at sea".
Petty Officer 1st Class Wallace Qual received the AFRAS Gold Medal for leading the rescue of the captain of the fishing vessel Legend, which ran aground near Newport's bar Yaquina Bay last year.
At approximately 11:40 p.m. on the night of September 7, 2020, Coast Guard sector watchmen in North Bend received a distress call from a fisherman who reported he was on the South Pier in Newport.
Crews aboard two motorized lifeboats and a ground crew were dispatched from Yaquina Bay station. An Air Facility Newport crew aboard an MH-65 Dolphin rescue helicopter also responded, but they turned around due to reduced visibility and dangerous weather conditions. One of the crews of the motorized lifeboat arrived at the scene at approximately 1.120 a.m. but was unable to approach due to the formation of shallows.
Meanwhile, the ground crew traveled about three kilometers to reach the scene from the South Beach State Park access area, taking 500 feet of lifeline and other equipment with them.
Shortly after their arrival, at approximately 1:35 a.m., the survivor abandoned the vessel in the water as the vessel began to break up. Qual, the leader of the group on the ground, tried to swim to meet him. As the sailor was quickly swept south by waves and currents, Qual returned to land. With a second attempt, Qual managed to reach the survivor. The shore crew pulled both from the waves using the lifeline. None were injured and the survivor was transferred to an EMS team for assessment.
"The overall teamwork that helped locate the sailor and the communication between our crews has been tremendous," Qual said after the rescue. "When I got to him, he was wearing his survival suit and had an EPIRB and a strobe light in hand. This preparation probably saved his life."