Sam Storey goes wire to wire to win River-Cade Amateur 2022 | Golf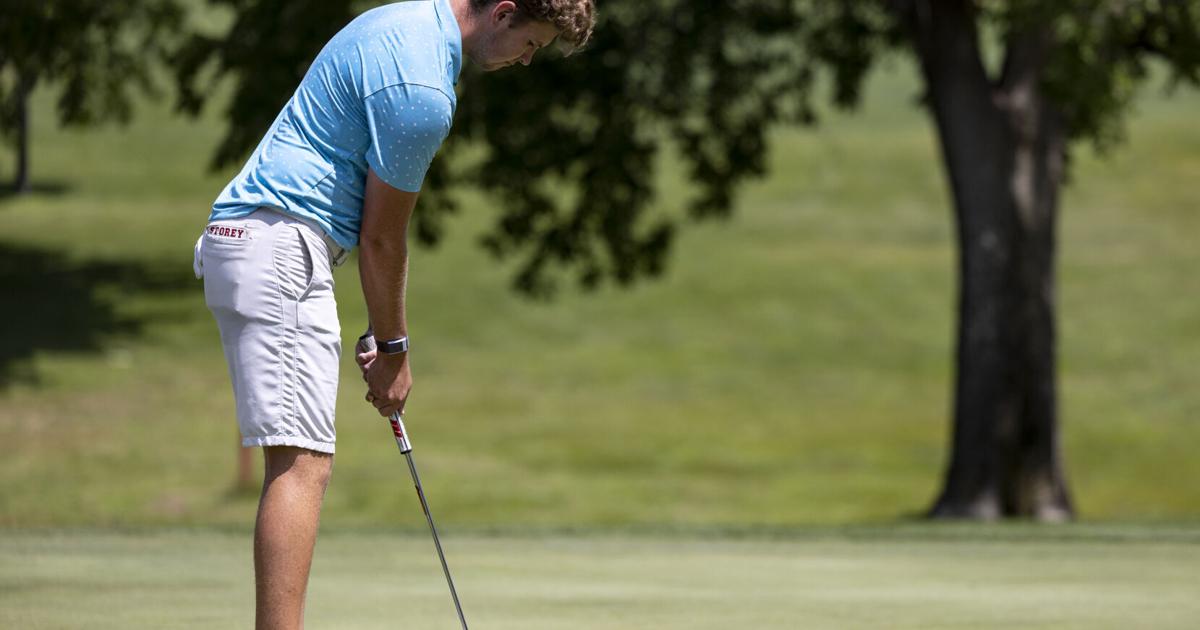 SIOUX CITY – Sam Storey stuck to his game plan.
On Saturday, the Morningside University senior said he had to be patient and not let a bad swing affect the rest of his round.
Storey's plan of attack helped him with the River-Cade Amateur Championship on Sunday at Green Valley Golf Course. He had a score of 173 over 45 holes.
It's been a summer since Storey has grown by leaps and bounds, even in the last few weeks.
Early in the summer, he placed in the 50s at the NAIA Men's Golf Tournament in the Quad-Cities.
A few weeks later, Storey won his first amateur championship in the subway.
"It's nice, winning is good," Storey said. "It's always nice to go out and stick to the game plan. I performed what I was working on, and I didn't do it at nationals. It was good to run things today.
Storey was in the lead after Saturday's round of 66, and on Sunday's 36 holes, Storey held a four-shot lead over Colin Mitchell.
Mitchell was able to fight back and cut Storey's lead in the final nine holes. These two were among 12 golfers in the championship flight who earned the right to play one more round, this time on the front nine of the course.
Storey knew what his score was, but as he drove up the ninth hole of the championship round, he wondered where Mitchell and his Morningside teammate Jonny Douglas were on the leaderboard.
"I wasn't so sure what they were doing, and it's always on your mind," Storey said.
Storey became the first River-Cade champion since 2019 not named Corey Matthey. Storey knows how much it means to the region that a Morningside golfer wins the event.
"I follow a long list of very good college golfers in this area, including Jonny Douglas and Corey Matthey," Storey said. "That bar is set pretty high, but it's cool to be in the same conversation with these two. It's hard to explain, but it's nice to put myself in a situation where I can win.
This victory is not the only one for Storey this summer.
On June 28, the golfer from Surrey, England, medaled with a score of 139 over 36 holes in the 2022 USA Amateur Qualifier at Dacotah Ridge Golf Club in Minnesota.
Douglas wasn't too far behind Storey in the final standings, as he finished with a 176. On Sunday, Douglas shot a 71, while in the back nine he had a 35.
Douglas finished third national a few weeks ago at the nationals.
"I played well this week, but I made too many mistakes," said Douglas. "Sam deservedly won. There was good momentum for the rest of the summer.
Douglas thought he could have shot better off the tee, especially on Saturday. He didn't hit as many fairways as he wanted.
"I just didn't manage myself enough and thought my course management was a bit weak," Douglas said. "I really didn't think about the golf course properly."
In between was Mitchell. Mitchell placed second with a 174 over the 45-hole weekend.
"You always want to win, but Sam is a great golfer," Mitchell said. "I tried my best. I was really close. He won. He deserved it."
He had the lowest nine-hole score between himself, Storey and Douglas with a 34.
This is the third straight year Mitchell has finished in the Top 6. He finished sixth in the 2020 River-Cade, and last year the UPS rider was also second with a 180 behind Matthey.
Mitchell credited the two college men for amplifying the game for everyone.
"The middle school kids took it to another level," Mitchell said. "It has a lot to do with (former M'side coach) Todd Sapp and it has a lot to do with (current Mustangs golf coach) Nick Wanderscheid. They recruit better kids, and those kids play and train. They are improving. They work very hard and they get good results.
On Saturday, Mitchell said he played poorly off the tee but rode better than usual. On Sunday, he said playing in 25-mile-per-hour winds made it harder to play the game he wanted.
"You have to make five-foot putts," Mitchell said. "I like the wind. I like to hit low kicks and hooks and cuts. In a simulator, Sam is going to beat me every day. If I can get it out here with the wind, I felt like that was my best chance.
Pottebaum wins senior class
Al Pottebaum shot a lower score on Sunday (71) as he did on Saturday with a 72, which helped him become the senior division champion at Green Valley with a 1-under par of 143 over these 36 holes.
"It means a lot, because I haven't played a lot of tournament golf and I haven't played very well," Pottebaum said.
Pottebaum said Saturday he didn't feel a lot of pressure.
After playing his game on Sunday, Pottebaum said that wasn't quite the case. He managed to keep his composure in his 18-hole round to win the glass plate.
"First of all, I played with some great guys, and that helped me," Pottebaum said. "I felt like I was in control with my short game and my irons."
Jeff Donaldson was second, finishing four behind Pottebaum.