River Falls Fighting Fish Keeps Eyes On The Prize | Sports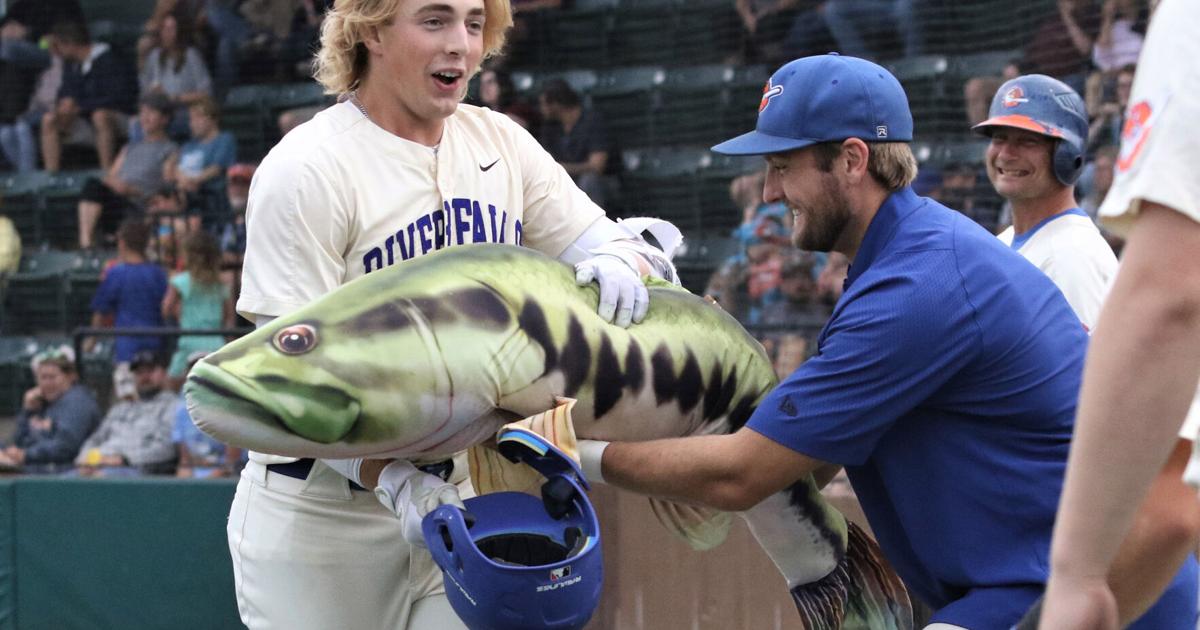 Ragan Pinnow couldn't hold Frank the Fish off for long on Saturday night.
Pinnow hit a solo home run in the third inning to extend River Falls' lead to 3-0 against the Osceola Braves at River Falls Field's First National Bank and was quickly presented with the new charm of the Fish home run by former owner Spencer Diedrich when he returned to the dugout.
But three innings later, Diedrich had a solo shot for the Fighting Fish's final run in their 9-1 win over the Braves and Pinnow was forced to surrender Frank the Fish.
"Oh man! I only owned this thing for about half an hour! he said.
Frank the Fish is the brainchild of Fighting Fish player Lucas Luedtke. Players gain possession of the prize by hitting a home run and can take it home each night until someone else hits a home run.
The team's latest injection of levity comes as the Fighting Fish close in on their fourth straight St. Croix Valley Baseball League championship. Saturday night's win over Osceola and Sunday's 5-4, 11-inning win at Elmwood bumped Fish's SCVBL record to 13-2, two games ahead of Prescott, with three championship games to play. They can clinch at least a tie for the league title with a victory over New Richmond (1-15) this Wednesday night at home before a Saturday night game at Spring Valley (8-8) and the regular season finale at Prescott Sunday afternoon.
Pinnow and Diedrich provided the power last Saturday night, and Luedtke and Andy Metcalf both had first-inning RBI singles as the Fish opened the game with five runs in the fifth. Weston Lombard and Kyle Fritz limited the Braves to four hits and a run, with Fritz earning the pitching victory.
The Fish won a pair of non-league games earlier in the week – 15-1 in seven innings against the Centennial Cougars (Minn.) on Wednesday night, and 6-4 against the Kewaskum A's on Friday, before a pair of wins in championship against the weekend to improve to 24-6 on aggregate.
Matt Bacon made his first appearance on the mound in 14 years in Wednesday night's win over Centennial, allowing just one unearned run on three hits over six innings to claim the pitching victory. Diedrich hit a solo home run and Charlie Griffin threw three scoreless relief innings in Friday night's behind-the-scenes win over Kewaskum.
Postseason play for the Fish will begin with the SCVBL Tournament Aug. 5-7 in Bay City and Prescott, before the First National Bank of River Falls hosts a district round of the Wisconsin Baseball Association State Tournament. August 12-14. The WBA Finals will take place August 19-21 at a venue to be determined.