Oklahoma football coach Brent Venables opens up about Red River Rivalry training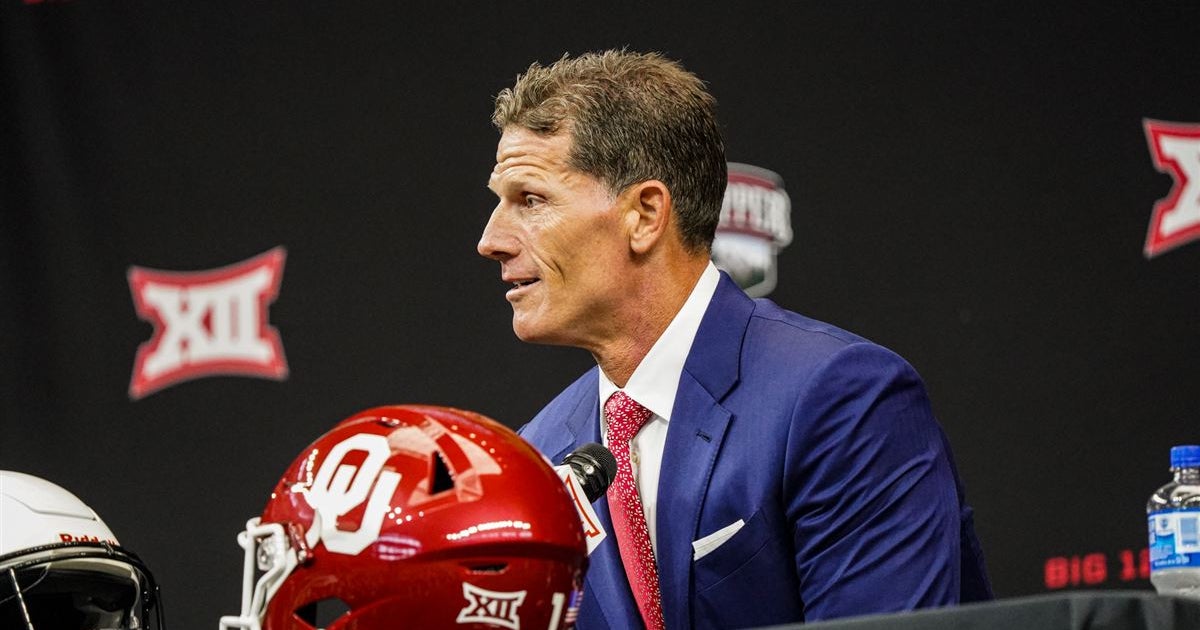 Brent Venables appeared in many Red River Rivalry games over the years, but never as a head coach. Venables was on Oklahoma's coaching staff from 1999 to 2017, before leaving to become Clemson's defensive coordinator. Venables was hired as the Sooners' head coach this offseason and asked about this season's Red River Rivalry game against Texas during Thursday's Big 12 Media Days.
"It's obviously another rival," Venables said. "It's one of the most storied and lore-laden games in all of college football, played in the great city of Dallas in the Cotton Bowl. Lots of history and tradition there. I know very well this rivalry and what it means to so many people. The emotion and the intensity of it and the momentum that can come from this match. Everything has its time, but we often face each other for obvious reasons in recruiting and program development, but I'm looking forward no questions asked because I know they're going to go down that ramp.
Venables was also asked if it would be different this season as a freshman head coach.
"I don't see it that way," Venables said. "I have always enjoyed my own role. My own role has always played a part in winning and losing. Am I the face of the program? Absolutely. But I recognize that there will be a lot of success if we succeed, it will be thanks to a lot of people doing things the right way. … Our real goal is August 4, which is the start of fall camp.
Texas leads the all-time series against Oklahoma 62-50-5 despite the Sooners having won four straight against the Longhorns. Last season, Oklahoma won a thrilling 55-48 showdown at Dallas. Oklahoma has also won seven of the last 10 matchups in the Red River rivalry.
During his press conference, Venables also touched on rebuilding Oklahoma's roster this offseason.
"Well for us it was about developing relationships," Venables said. "That's where it all basically starts for us as a program. I needed to connect with the current roster, certainly find out what our needs were first while I was doing that. But that was the thing. most important thing we did once we hired our staff and that's to develop those relationships and then you really don't have, as fast as it all happened, to be very transparent and honest with you , you haven't made it between the portal, between the guys who declare early and the guys who just graduated, it's takes a bit of time to get a good honest and clear view of your needs.And you can certainly look at numbers on a depth chart or numbers at a position from a purse count standpoint and what your needs are from a numerical standpoint and so we have addressed that."
"For us we have 40% of our roster renewed, it will be new, for the first time they will dress as Sooners this fall," Venables added. "For us, we want to honestly source as many high school students as possible as opposed to the portal. But some positions were decimated if you will and you really had to go to the portal. So we did that with 15 transfers and we wanted to find guys who had experience both playing at a high level, maybe they were captains, leaders in their particular programs, and I think we did that. We got 244 starts between those 15 transfers, which is substantial so that was our No. The number one priority is that we've lost so much experience on both sides of the ball is that we have to try and replace it with some maturity and experience and guys who were natural leaders where they came from.
Get the fastest scores, stats, news, live videos and more. CLICK HERE to download the CBS Sports mobile app and get the latest news on your team today.
Kevin Flaherty contributed to this report.