NSW junior surf titles a win for the residents of Illawarra Oceanna Rogers, Lennix Smith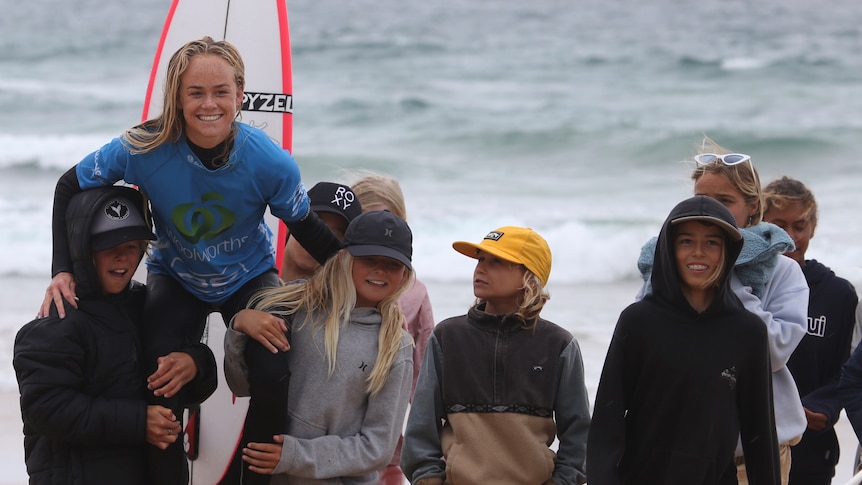 Hosting the NSW State Junior Surfing titles in Illawarra appears to have paid off with two local surfers winning the men's and women's Under-18 events at East Corrimal Beach on Saturday.
Key points:
The champions were crowned this weekend in the U18 and U16 divisions of the NSW junior surfing titles
The event, held at various beaches in Wollongong, apparently benefited local surfers
Surfing NSW had to delay the event due to COVID-19 and was therefore delighted when the waves "lit up"
Barrack Point's Lennix Smith beat Sydney North Beaches surfer Kobi Clements, surfing to victory in small, wind-blown waves.
"I was just trying to keep busy all the time and try to find one with a little wedge that would give me a little section to hit," Smith said.
Shellcove surfer Oceanna Rogers won the Women's U18s by beating Keira Buckpitt of Culburra, who is also a member of the Ulladulla Boardriders Club on the South Coast.
Rogers was patient to wait for the right wave and use his priority in the 20-minute four-man final.
"I had the right of way so I wanted to go on the best wave possible. I waited so long but finally the wave came," she said.
Delayed event from the start of the year
Surfing NSW had to delay the event due to COVID-19 and the numbers were dropping with a double vaccination policy for those over 16.
But for spokesperson Ethan Smith, the delayed event was well worth the wait.
"Give the kids something to work on," he said.
"A lot of them have worked a lot in the last 12 or 18 months so it was nice to be able to offer them an event.
The champions were also crowned in the Under-16 event with Eden Hasson of Port Stephens winning the cocks, Hughie Vaughan of Central Coast second and Samuel Lowe of Port Kembla fourth.
Milla Brown of Newport in Sydney won the women's U16 event with another Illawarra local, Zahlia Short of Austinmer, second.
The Under-14 event continues with other state champions expected to be crowned on Monday.