Local man launches kayak rentals on the Clarion River | New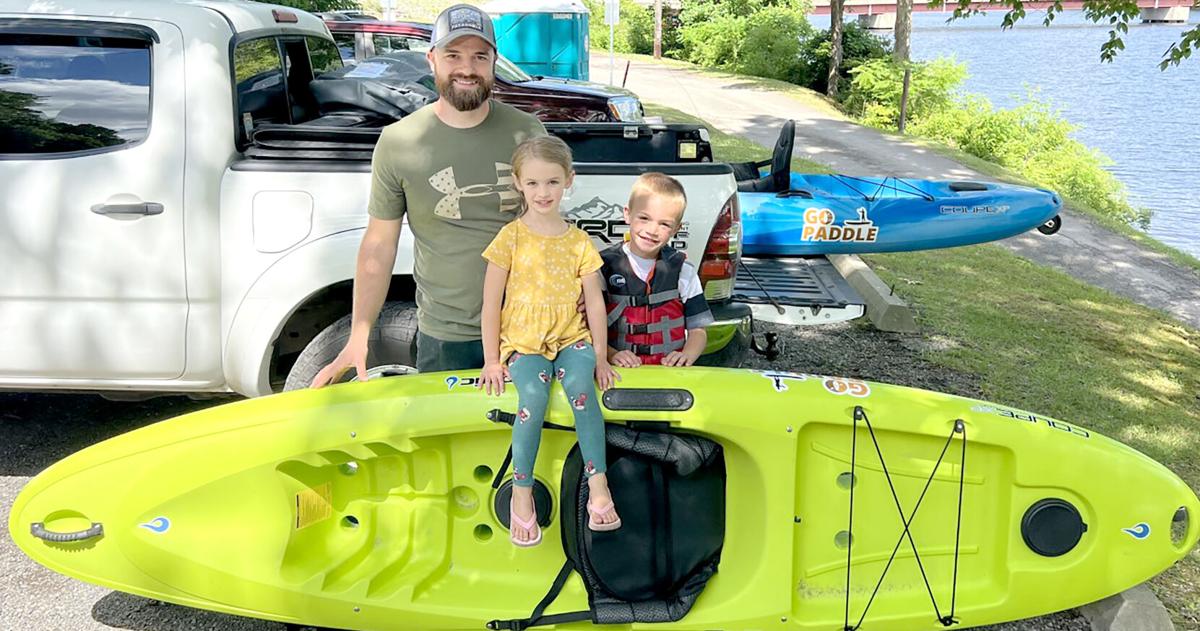 CLARION — Tom Switzer of New Bethlehem wanted to rent paddleboards on a trip to North Carolina's Outer Banks, but found the process cumbersome. After finding a rental location, he had to load the somewhat bulky paddle boards into his vehicle and drive them to the beach to use.
"I said to my wife, 'there's no reason (the rental process) couldn't be automated in the world we live in today,'" said Switzer, who has a background in technology. "With the proximity to the water, it was insane not to have (a rental option) right there on the beach."
"By the time we got home, I pretty much figured out how I thought I could do it."
Thus, Go Paddle PA, a self-serve paddle sports business based on the banks of the Clarion River at Toby Boat Launch, located off North Fifth Avenue in Clarion, was born.
The process of opening Go Paddle began last fall, when Switzer obtained all the appropriate permits and approvals, including from Clarion Borough and Brookfield Renewable Power (which has a 20ft right of way on the banks adjacent to the river ).
Switzer was pleasantly surprised at how easy this process was, saying, "It was easy to work with the borough and municipalities, that was the easiest part of (opening Go Paddle PA). I think we have a very growth-oriented group of people right now (both on the Clarion Borough Council and in the local municipal governments). They really want to see businesses take off, arrive and thrive.
Explaining how Go Paddle PA works, Switzer said: "It's like a type of bike sharing. You go online (www.gopaddlepa.com), pick a date and time, and rent whatever you want (a kayak or paddle board). Once the rental is complete, you will receive an unlock code by email. You go to the station (locker) on the Clarion River, unlock the one you rented, take it out and then bring it back.
Go Paddle PA currently offers four one-person kayaks and two paddleboards for rent, as well as several inflatable paddleboards. Life jackets are included with the rental. Rental on site is for three hours, although inflatable paddle boards can be rented for up to a week and taken on trips.
A disclaimer must be accepted before any rental can be made.
The kayaks and paddle boards available are solidly built, rather than cheap and flimsy watercraft.
"Our biggest expense was the boats, we had very good quality ones; they are extremely heavy plastic and will withstand abuse and won't warp. They're probably twice the weight of a normal kayak, but they have a wheel on the back so you just grab the front of the boat and it'll follow, so you're not carrying the boat," Switzer noted.
"We bought (kayaks) which would work very well. They track (go straight) very well, they maneuver quite well. The seats are extremely comfortable. The user experience should be really good.
Security measures are in place to ensure kayaks and paddle boards are returned to the locker.
"There is a risk of them being damaged or stolen, but, at the same time, we have provisions in place to prevent loss," Switzer commented. "We will have security cameras working all the time and the locker will be anchored to the ground. We will also stop quite regularly.
The Go Paddle PA website has short video tutorials on the basics of kayaking and paddleboarding, which Switzer says aren't difficult to learn.
Switzer said, "If you can stand up, you probably can (paddle). When it comes to balance, you're using muscle groups that you're not usually used to. But the board is made for (standing on it), it's quite stable, there's a pad (on the board) that gives you good traction for your feet.
"These tutorials really help, they give advice in minutes. For example, if a boat is passing by, you might want to get on your knees (to avoid getting dumped). The other thing, and that's also good life advice, keep your eyes forward and you'll do much better than looking down.
The location of the locker, which Switzer installed at the boat launch on July 2, provides easy access to a relatively calm 13-mile stretch of the Clarion River stretching from Brookfield Piney Damn to the boat ramp. Mill Creek launch.
"(The Clarion River) is arguably the most beautiful river in Pennsylvania. Just getting out on the water is great; get out of your house and get outside, breathe some fresh air and get moving," Switzer added.
He continued, elaborating on the benefits of kayaking and paddleboarding: "It gives you a chance to relax, just health and recreation. It's a good family activity. It's something kids will remember more than TV or video games.