How the pandemic has affected search and rescue calls on the Sunshine Coast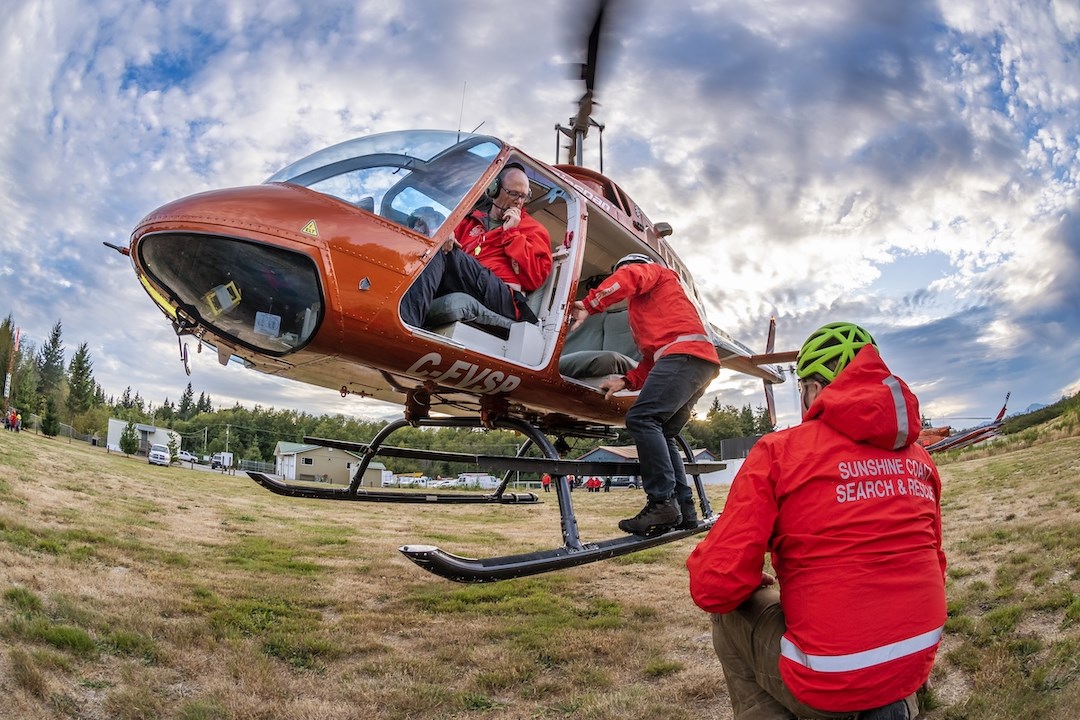 As 2021 drew to a close, it was the second year that local search and rescue (SAR) operations were affected by the pandemic.
On the Sunshine Coast there are four teams of these volunteers: Sunshine Coast Search and Rescue and the three Royal Canadian Marine SAR groups from Station 12 at Halfmoon Bay, Station 14 at Gibsons and Station 61 at Pender. Harbour.
The Sunshine Coast SAR team, covering ground and inland water emergencies, saw the number of calls rise to 40 in 2021, with five assisting other response groups. This, said Sunshine Coast SAR director Alec Tebbutt, represents a 67 per cent increase from 31 responses the year before – and more than the 50 per cent increase in BC Search and Rescue Association teams. (BCSARA). The number of calls for assistance to the SAR group on the ground has increased since pre-pandemic figures which were generally between 20 and 24 calls.
Tebbutt noted that other nearby areas such as Squamish, North Shore and Lions Bay have seen a huge surge in calls since the pandemic began. The Sunshine Coast, he said, is a destination for the Lower Mainland.
But for marine volunteers, calls for help dwindled in 2020 at the start of the pandemic. Halfmoon Bay Station 12 historically receives about 30 calls for help (37 in 2018 and 27 in 2019), but the first year of the COVID-19 pandemic saw only 16 calls. In 2021, that number increased to 20 for the Halfmoon Bay team, which also covers Sechelt and Davis Bay.
Gibsons Station 14 has seen a similar decline in recent years, dropping more than half of its calls from 21 in 2019 to 10 in 2020. Some of that could be attributed to the station's decision to pull out for two months as volunteers worked out how to create a safety protocol for the pandemic, along with rising fuel costs and the public not traveling as much in 2020, station manager David Croal said. Then, in 2021, calls for the team "went up" to 18.
Station 14 also saw a reduced membership, when some of the volunteers didn't want to risk further exposure to COVID-19 and had other responsibilities to take on, Croal said. During this time, they also saw a stronger Coast Guard presence.
In the Pender Harbor area, Station 61 has had fairly steady call volume for the past four years, station manager Ray Des Harnais said. In 2021, they had eight missions, after 11 in 2020.
Tendencies
Ground SAR's Tebbutt says the increase in numbers indicates two things for the coast: there are more people getting out on the trails (likely because travel is limited by the pandemic) and there has been an increase in problems of mental health. 2021 has seen more calls for discouraged people and residents with Alzheimer's disease, and some of those rescues have turned into recovery missions. These types of calls can be challenging for the team, Tebbutt said, and priorities for 2022 include increasing critical incident stress training. Two of Sunshine Coast's SAR members will join the provincial team for the Critical Incident Stress Management program.
Stations 12 and 14 both noted an increase in apparently inexperienced boaters, cruise ships and an increase in vessels unfit for use.
"We can't go anywhere on vacation, so they bought a boat, usually inexpensively. And unfortunately a cheap boat normally causes a lot of problems," said Adam Hoult, Station 12 manager.
Last year, Station 12 also saw a fairly even split between calls from its ship at Sechelt Inlet and its current ship based at Secret Cove, as well as an increase in calls at Davis Bay.
Hoult said it could be due to the amount of traffic there and the visibility of the water as more people call. They've had a number of false alarms about kitesurfers staring at passers-by like they're struggling.
Hoult said they still routinely see boaters not wearing PFDs (personal flotation devices), even though having a PDF on board for each person is a Transport Canada requirement. On those darker days, he also recommends making sure the navigation lights are working and your boat is visible on the water, and making sure it's in good shape if you haven't taken it out. recently.
Croal of Gibsons' Station 14 said the team encountered several boaters using Google Maps for navigation on the water, but the app did not show hazards below the surface. Croal also recommends using a waterproof phone case and knowing how to give a proper distress signal (not posting to Facebook).
New equipment
During 2021, new equipment and training have benefited the various teams.
The ground SAR group has purchased a new vessel for lake operations and has trained on the Zodiak, but has yet to use it for a task. Communication for their team has also improved through the use of an app that allows the team to track their members' locations in real time while responding to a call for help. It can even be used to find the subject if he is able to text back to his phone (he does not need to have or download the app) and the app keeps a record of areas that have already been sought.
Tebbutt said his team now uses the app on every call, and it is also used by other teams that Sunshine Coast SAR often work with, including in Squamish, North Shore and Pemberton.
The Gibson crew also upgraded their communications system and acquired new navigational equipment. The communication setup means that crew members can hear each other without shouting, which Croal says has helped reduce anxiety levels during calls and allows them to operate in a calm manner. A newly offered vacuum immobilization stretcher — similar to a form-fitting sleeping bag — supports subjects in a more comfortable way than the usual stretcher board, and its use is becoming more standardized, Croal said.
Station 12 received a grant from the Sunshine Coast Community Forest which enabled them to redevelop the Ken Moore with a new set of electronics and radar. The improvement allows the crew to stay on duty around the clock and rely on the equipment in less than ideal weather conditions and at night.
Pender Harbor Station 16 also received new radar and navigation electronics in 2021, replacing their outdated equipment and software that had been in use since 2013.
And after
Now that 2021 is in the rearview mirror, search and rescue teams are preparing for what's to come in 2022.
The ground SAR team will continue training with new rope systems, as well as new swiftwater and avalanche rescue equipment.
One of the biggest priorities for the Halfmoon Bay station is to move the Kin Moore from Secret Cove closer to Sechelt, where most of the crew resides, to reduce response time. They will also need new engines for both boats.
Gibsons will focus on getting a new boathouse and increasing recruits.
How you can help
Search and rescue teams welcome interest from potential volunteers throughout the year, and some are also looking for support volunteers to help with other tasks that aren't on the ground or on the water. Such work could include maintaining equipment, planning events, writing grants, or joining the board, and those interested can contact stations individually with their skills.
In the four SAR teams on the coast, there are approximately 85 active members. Thirty-three volunteers make up the Sunshine Coast SAR team, and there are 18 active volunteers at Station 12 and 20 at Station 14. As of January, Gibsons was interviewing about eight people as potential recruits. Three new recruits are being trained to join Pender Harbor's active 14-member crew, but all classroom training has been suspended due to the Omicron variant.
The ground SAR team also includes a certified canine member, Echo, and another dog-in-training who can help scan an area quickly. Tebbutt said the team is lucky to have a handler among them, since the RCMP K9 unit must be from the Lower Mainland. The ground SAR team usually recruits in the fall and trains up to a dozen new members at a time.
Fundraising has also been affected by the pandemic. Croal said many people think SAR teams are funded by the government, when in reality some of their operational costs are reimbursed and funding is provided by the Coast Guard, but they also continue to rely on donations. and private or corporate grants. Each team is a non-profit organization and raises funds in its own region. Donations can be made online at their websites.
"We rely on the kindness of the community and the donations of people to make sure we have what we need and can operate day-to-day," Hoult said. "If people are looking to make a charitable donation to someone, I think your SAR station is a good place to start. That's what we could be asking our community for right now is financial help.
One of the best ways to help local search and rescue teams, Tebbutt said, is to be safe and prepared. He recommends following the "Three Ts" of trip planning, training and taking the 10 essentials: a flashlight, fire-making kit, signaling device, food and extra water, extra clothing, navigation/communication devices, first aid kit, emergency blanket/shelter, pocket knife and sun protection. You can find more safety tips on adventuresmart.ca.