Grand Slam of Sardinia – Alex Mazella warns his rivals: "Cagliari, I'm coming!"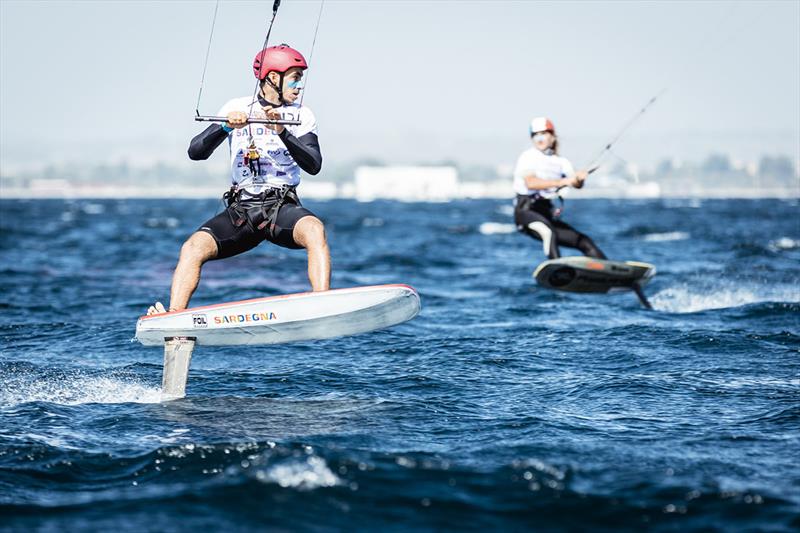 [ad_1]
Grand Slam of Sardinia – Alex Mazella warns his rivals: "Cagliari, I'm coming!"
by Sardinia Grand Slam 2 Oct 05:44 PDT
6-10 October 2021
Alex Mazella in action at the 2019 Sardinian Grand Slam © Alex Schwarz / IKA Media
The 23-year-old French pilot is ready to defend his leadership in the KiteFoil World Series during the Grand Slam of Sardinia (6-10 October). The previous day's press conference will take place on Poetto beach in Cagliari on Wednesday October 6 at 11:00 am CET.
"I can't wait to be at the Poetto. I know it will be a close race, but I'm super excited: Cagliari, I'm coming." Axel Mazella, 23, leader of the KiteFoil World Series Men's Standing, is preparing to defend his first position against the attack of Grand Slam rivals of Sardinia, IKA KiteFoil World Series' round-3, which will be organized by Golfo degli Angeli's eaux and 6th stage of the Poetto, emblematic beach of the capital of Sardinia, from October 6 to 10. The international event is organized by GLEsport in collaboration with the Chia Wind Club and the support of the Yacht Club Cagliari, under the aegis of World Sailing and IKA-International Kiteboarding Association.
Vice-champion of the opening round of the World Series at Gizzeria last July, Mazella returns after good results in September: the European title in Montpellier and the success of round 2 of the World Series at Traunsee. All these results surround Mazella with great expectations in Cagliari. "I'm quite happy with the success at the European Championships and my leadership in the IKA KiteFoil World Series standings. Cagliari is a really cool place to run: I've been there four times in my life and have always enjoyed it. place. I'm super excited to compete with the other guys and hope we have a good win. "
Apparently, in her full maturity, Mazella seeks further improvements with every race and training. "You always have something better to do, you can always push the limit more and more. If you stay in that kind of mind, you can move forward and forward. That's my goal. and even if I am already super high in my maturation, I hope to be able to go even further ". Axel, who turns 24 next December, has shown his talent in several places, but he feels at home when he races in Sardinia. This particular feeling blossomed at the 2015 World Junior Kite Foil Championships, before strengthening at the Grand Slam of Sardinia in 2017 and 2019. and I'm preparing for it, it's a special place for me for sure. because I was crowned winner of the KiteFoil World Series in 2019 and also in 2017. I can say that I have good memories there and I am pretty sure that I will be able to have other good memories in the years future".
Of course, Mazella's rivals will not be in Cagliari disguised as spectators. The French talent knows this well and points out who will be his main opponents: "We have just returned from Austria where I fought a lot with a Théo De Ramecourt, a French friend and a great competitor. Benoit Gomez is also super strong, as well as Denis Taradin who won the first stage in Gizzeria, Italy. We're definitely going to have a close race. "After two rounds, Mazella leads the 2021 KiteFoil World Series men's standings with 597 points, 6 points ahead of Russian Denis Taradin (591) and 9 over Theo De Ramecourt ( 588) Connor Bainbridge (576) and Martin Dolenc (561) complete the Top 5.
While waiting to land in Sardinia, Axel says his three words which perfectly describe Golfo degli Angeli and Poetto beach: arrive, it can be really wild. We have already raced there with a small kite with 35-40 knots and it was really difficult. The second adjective is "sunny": every time I went there it was always nice. We have always had a good temperature and a little wind, I don't remember a day with clouds or rain. When I think of this place, the weather is always nice. Finally, "happiness": like I said, I won my first world championships in 2015 when I was eighteen, and every time I come there, I have really good. performed and I keep only good memories ".
While waiting for the champions to ride the waves, the press conference on the eve of the Grand Slam of Sardinia will be held at the Grand Slam Village of Sardinia (with entry from Chiosco Il Nilo), 6th stop at Poetto beach, on Wednesday October 6 at 11 a.m. : 00:00 CET.
For more information visit www.sardiniagrandslam.com.
[ad_2]