First goal, first star for Logan Linklater of the Regina Pats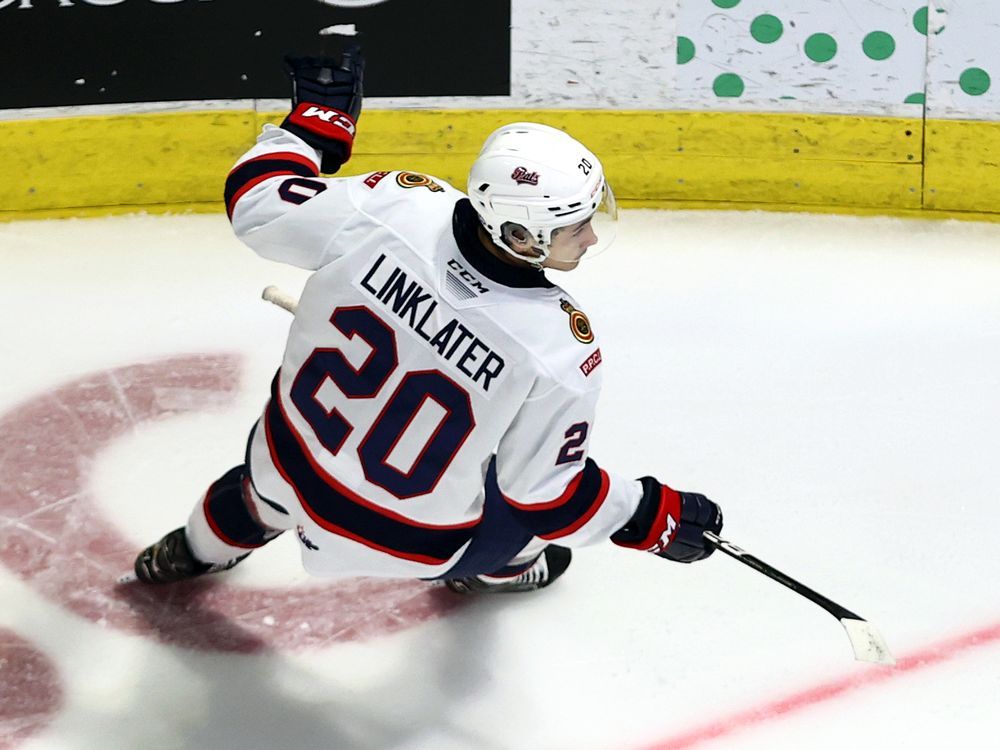 Logan Linklater scored his first goal for the Regina Pats to help his team defeat the Saskatoon Blades 3-2 on Wednesday night.
Content of the article
A goal was coming sooner or later for Logan Linklater.
Content of the article
In fact, his Regina Pats teammate Connor Bedard had a feeling the prolonged drought would finally end on Wednesday night.
His prediction that proved as accurate as the assist that facilitated Linklater's first goal as Pat, which helped his team defeat the Saskatoon Blades 3-2.
"He's one of the nicest people I've ever met and he gives us energy on the bench," Bedard said. "He hadn't scored and he's a talented player so it probably bothered him, but he didn't let anyone know.
"In fact, before the game, I said to him, 'I think it's today. I think you get that first one,' so it's kind of funny that it happened. I was happy to able to give it to him.
The long-awaited goal was engineered by a smooth cross pass from Bedard, who found Linklater as he raced towards the Blades net. Linklater beat goaltender Nolan Maier at 6:26 of the second period to give Regina a 2-0 lead.
The Kindersley-born forward, who turned 19 on March 24, had not scored in any of the previous 22 games he had played since being acquired by the Pats from the Prince Albert Raiders on January 10 for a conditional eighth-round pick. round in the Draft Outlook 2023.
Linklater made his WHL debut with the Raiders last season, registering one goal and four assists in 22 games.
In Game 15, Linklater scored his first WHL goal — at the expense of the Pats, who lost 4-2 at Brandt Center on April 13. He was named the first star that night, when he was 11 for 12 on faceoffs, and also received the highest rating after Wednesday's game.
Content of the article
After April 13, he went 29 games in the WHL without a score.
"It definitely kind of got away from me," said Linklater, who scored eight times in 26 games for the SJHL's Kindersley Klippers in the first half of this season.
"It was good to get rid of that, but the win was even better. We needed this one.
Regina had lost four straight before defeating Saskatoon, which had beaten the Pats 3-1 at SaskTel Center five days earlier.
With just eight regular season games remaining, the Pats (24-31-3-2) are five points from eighth and last place in the Eastern Conference playoffs.
They are also six points behind seventh place, currently held by the Swift Current Broncos (26-31-5-2). The Lethbridge Hurricanes (27-30-3-1) jumped to eighth place on Wednesday when they lost 6-4 at home to the Broncos.
Prince Albert (25-32-4-1) is ninth, three points behind Lethbridge and one point ahead of the 10th-placed Calgary Hitmen (23-31-6-2). Regina leads Calgary by one point.
The Pats have four games in hand in Swift Current, two in Prince Albert and Calgary and one in Lethbridge. They have two games left with Prince Albert – Saturday at the Art Hauser Center and April 9 at the Brandt Center – and will also play in Swift Current on April 8.
However, three of the Pats' remaining games are against the CHL's top-ranked Winnipeg Ice (48-9-3-2). Winnipeg will visit the Pats on Friday before hosting Regina on April 14-15.
Content of the article
The Ice have won all 13 games against Regina since the franchise moved to Winnipeg from Cranbrook, B.C. after the 2018-19 season.
Regina's eight-game slate is rounded out with matchups with the 30-25-3-2 Brandon Wheat Kings (Tuesday at Westman Place) and the 35-22-3-2 Moose Jaw Warriors (April 17 at Brandt Centre).
"Every game is like Game 7 for us now," said Bedard, who only missed the playoffs once — in the pee wee ranks — during his highly decorated hockey career.
News seems to be flying towards us faster all the time. From COVID-19 updates to politics and crime and everything in between, it can be hard to keep up. With this in mind, the Regina Leader-Post has created a Afternoon titles newsletter that can be sent to your inbox daily to ensure you are up to date with the most vital news of the day. Click here to subscribe.