Confessions of a Pointbreak Surfer | Sending Swellnet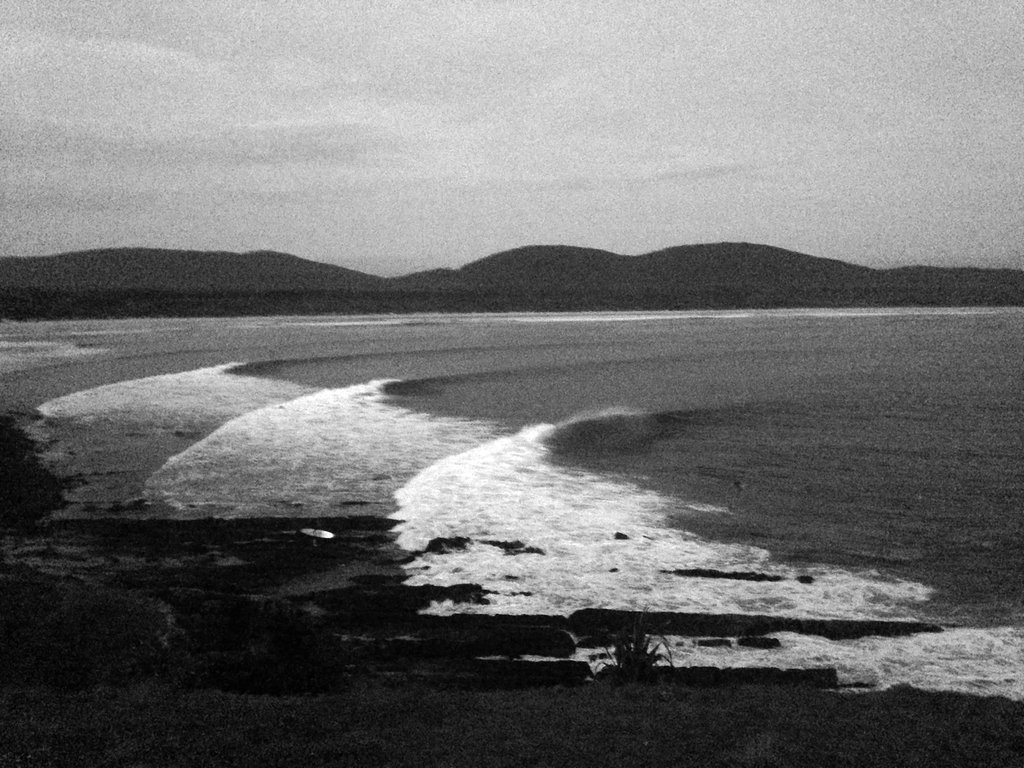 With J-Bay imminent and a juicy forecast on tap, there's a nice tingle in the loins.
The added thrill in viewing comes from a unique fact. By default and by design, I am now almost purely a point break surfer.
It didn't start like that. I grew up on an island shaded by the swell, with a steady regimen of two-second beach walks that crashed into the shore.
The fascination began when the island's hottest surfer returned from a trip to the Northern Rivers pointbreaks. He might as well have been Marco Polo returning from a trip to the Orient.
These are not the tales I remember. It was the scars. He was covered from head to toe with lines of scabbed cuts, as if he had been attacked by tigers.
Apparently this surf point break carried the threat of being cut into ribbons on entry and exit. The danger factor made it compelling.
Our island pointbreak protege is long gone from this world. He committed suicide in his youth – an event that still haunts my peer group. We thought he was an invincible god, capable of anything. A vanguard that could start from our small island and conquer the world, including the famous and dangerous pointbreaks that we only saw in magazines.
As soon as I could, after a long period of wandering around the oceans of the world, I moved to the place that had so captured my imagination through the vicarious adventures of my childhood hero.
Pointbreaks are beautiful things; rare things. The finest and rarest things in surfing. As such, coveted and in high demand. The crowds that flock in search of the rarest gift: an unencumbered crier along the length of the tip have deterred me for years. My diet was varied and I did long stretches to avoid the crowds.
The crowds remained the same but events intervened to change my perspective. My children took up surfing. Dots peelers are so much more fun than windups for kids. I got used to dodging and weaving through crowds to pick up riders who slipped through the cracks, often ending sessions with surprisingly high wave counts.
The white shark had an even greater impact. When Tadashi Nakahara got his legs bitten off on a glorious Monday morning in February 2015, the kind of lovely little beachbreak day when you wouldn't have a care in the world, something started to change. My buddies who tried to revive him all suffered severe trauma – just like those from the other attacks. Most spent long periods out of the water, many needed long-term psychological support.
Like others, I stopped seeing my fellow surfers as competitors that had to be overcome to get a wave and instead saw them as potential rescuers or survivors. The atmosphere has changed, in my opinion, and has become more collegial. I became happier sitting down with the crew and getting a ticket. Over time, this ticket – a wave defined to the point – became more valuable than a million liquidations.
There is no secret to the buzz. The bank and the swell function as a single unit. The rope is stretched and then whipped. Flow is the thing when you ride whipped energy along the line. Minimalism becomes the end goal when you build effortless speed on speed. Periods of absolute stillness, à la Tom Curren in Free scrubberframe bends full of blood.
Bill Finnegan in his memoirs barbaric days describes the "first-order" problem of the long-term longitudinal study of a station wagon, its wiring, its true understanding as "the basic occupation of surfers at their local station wagon".
For the sand bottom points that depend on this incomplete and idiosyncratic flow of precious sand, the study is daily. Tides, swell directions, local and ocean currents, seasonal wind patterns all act in concert to deliver the payload. Months sometimes pass in a kind of stasis. Sometimes when the bank is food, sometimes when it's empty. Then, all of a sudden, a new block of sand appears and the break transforms. Or the bank gets a haircut, swerves, or sinks deep into the spots. Seasons of stable shoals and good swells become memorable, as in 2007 and 2020.
That year, 2020, with the movement restrictions of COVID, sealed my fate. With interstate, international and even travel to neighboring towns being restricted, the option of only surfing the local wave – the dot – has emerged.
In all good conscience, I cannot recommend it. At least as a way to improve your surfing. Although pointbreak surfers make it better than anyone, and I'll submit Tom Curren, Steph Gilmore, and Ethan Ewing as proof, your surfing becomes one-dimensional.
I forced myself to surf a beachbreak the other day. It was not an elegant affair. Stuck on the bank for the paddle out, thirty duckdives later, I had to reposition myself to try to get out the back again. Two shitty closes in thirty minutes; a very poor return on investment. Some wobbly lefts. It felt like a brutal descent and my ability to dodge and weave and generate speed was depleted. Almost non-existent. In short, only surfing points made my beachbreak an embarrassment. It's hard to know when I'll try again, but it won't be soon.
I know, I cut off my nose to spite my face – like dad always told me I would. Left to my pointbreak fate with diminishing resistance.
The sharp sting of a sliced ​​barnacle on the arch of the foot feels like a sharp pain that makes me feel alive. The rocks are solid. They tell an ancient story. Climbing these rocks in the gathering darkness after a late surf that lingered into the moonrise, I see my childhood hero in my mind, in the full bloom of his youth, walking through a wall lit by the moon.
Free as a bird and immortal.