Byng's teams go wild at Red River Showdown | Local sports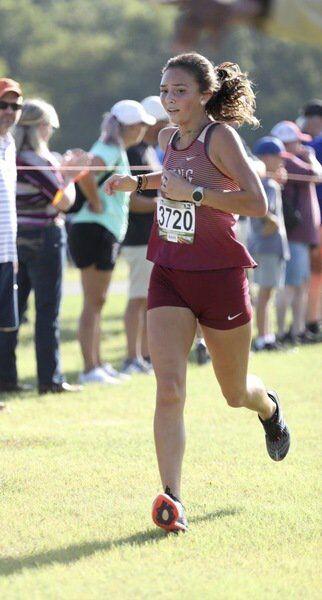 MARIETTA – Byng's cross-country head coach Josh Sawyer couldn't have asked for a better start to the 2021 season.
The Pirate teams won the Girls 'and Boys' Championships on Saturday at the Red River Showdown in Marietta.
Byng ran away with the women's tag team championship, finishing with 34 points. Plainview was far second at 80, followed by Madill at 100 and host Marietta at 109.
The Pirates also got away with the boys' championship with 26 points. Plainview was second at 74, followed by Durant at 90 and host Marietta at 98.
"I was extremely proud of both teams this weekend. We came out stronger on both teams than we were last year, "said Sawyer.
GIRLS
Plainview has been a thorn in Lady Pirates' side throughout the 2020 season and Byng was a Lady Indians finalist in the Class 4A State meet.
The Lady Tigers have finally turned the tables in Marietta for the first time in the history of the program.
"We still had a bitter taste in our mouths after losing to Plainview in last year's state competition. So I wanted them to go out there and set the tone for the season and send the message that we are not the same team as last year, "said Sawyer. "All the girls on the team have run faster this year than on the same course last year. We are better, stronger and faster.
Byng's sophomore Cadence Carlos won the individual title with a time of 12: 32.54. Madill senior Isabel Sanchez was second in 12: 36.17, while Rosie Coleman of Byng was third in 12: 58.30.
Sophomore Brylee Baird also recorded a top 10 with a time of 13: 13.10. Byng's next two riders – seniors Olivia Colombe and Kaylee DeAngelis – finished 12th and 13th, respectively with times of 13: 52.70 and 13: 54.73.
Senior Deesa Neely was next for Byng, finishing 16th in 14: 14.63. Senior Kylee Smith placed in the Top 25 with a time of 14: 30.11.
Byng's other runners were Sydney Burk (16: 25.13) and Brooklyn McAlister (16: 48.73).
"We still have a few things to work on, but it always feels good to come out and beat the one team that beat you the year before in the first competition of the year," said Sawyer. "It's even nicer when it's the first time in the history of the program that you've beaten this team."
BOYS
Byng put four players in the Top 10 and the fifth was in 11th place in the dominant performance.
Senior Harley Cobb won the title with a time of 16: 51.71. Wyatt Vinson of Marietta was second in 16: 55.47, while another senior from BHS – Kade Streater – secured third place with a time of 17: 21.96.
Freshman Gage Streater was fifth in 17: 29.39 and his junior teammate Lawrence Coleman was sixth in 17: 35.56.
Sophomore Alex Herrera was 11th in 18: 18.15.
"Throughout the summer I knew we would be strong with our top four riders, but I was concerned about our fifth place," said Sawyer.
"AJ Herrera took a giant leap this week and equaled his personal best in the opening competition of the season to finish 11th and consolidate the top spot of our men's team," he continued. "Harley Cobb, Kade Streater, Gage Streater and Lawrence Coleman all ran amazing races too."
Cobb won the 5K Run despite battling blisters and Kade Streater has just returned from knee surgery this preseason.
"These two seniors are looking to do great things this year both individually and as a team. Their tenacity is what every coach looks for in their runners, "said Sawyer.
Byng's two teams will face another tough field when they take part in the Carl Albert meeting on Friday.
"It was a great start to the season. Now we need to build on that momentum and continue to improve, "Sawyer said.
"We're heading to Carl Albert on Friday, where the boys will take on reigning state champions Oklahoma Christian and the girls will take on last year's 3A state runner-up, who rose to 4A this year, Cascia Hall. ", he continued. "Friday will be a great test for both teams. It will really show us where we are compared to the rest of the state. "