BIC Sports Jimmy Blakeney discusses his recent merger with Tahe Outdoors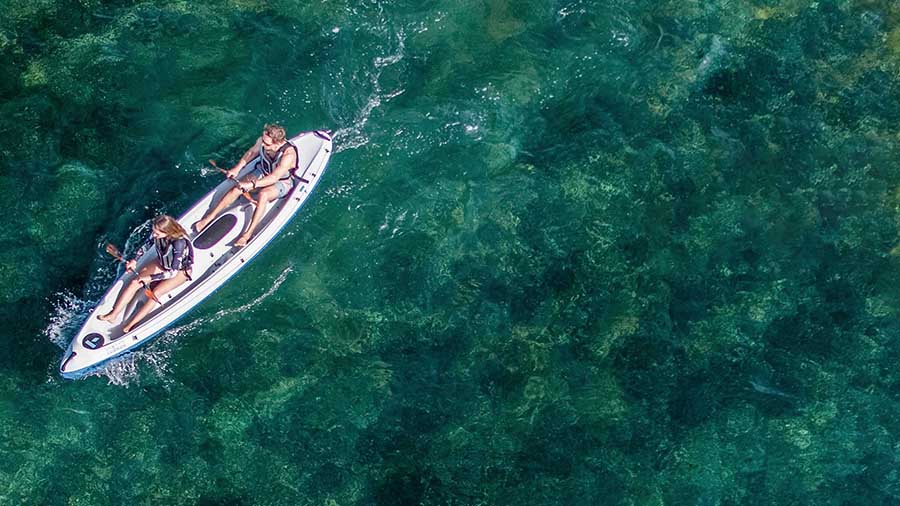 Earlier this year, after more than 40 years as a French water sports brand, BIC Sport merged with Tahe Outdoors to become TAHE, whose mission is to "develop products that are accessible, reliable, innovative, environmentally responsible and manufactured in France whenever possible. . "
BIC Sport, founded from the windsurfing culture of the early 1980s, has developed some of the best-selling windsurf boards in the category. Tahe Outdoors has a long history of manufacturing high performance expedition kayaks for the North European market. The TAHE brand merges the two and covers six sports, including SUP, kayaking, windsurfing, surfing, kitesurfing and sailing. Brands include Core Kiteboarding, SIC, Zegul, HPDE, and Tahe.
Under the agreement, BIC Sport employees will be retained and the names of its popular categories will be retained (Techno windsurf boards, Borneo and Bilbao kayaks, Cross and Performer SUP series). Ace-Tec and Tough-Tec technologies will be integrated into TAHE.
The company's North American Marketing and Product Director, Jimmy Blakeney, who left a long career at BIC, spoke about the merger with SGB ​​Executive.
Can you tell us about the merger? BIC Sport has been a legendary water sports brand for 40 years, but has always had its challenges associated with pens and lighters. The new TAHE brand inherits all the best of BIC Sport, including the employees, our Made in France construction technologies and top-selling products. We will build on this basis with the energy and enthusiasm of a new brand with innovative and forward-looking products such as the SUP-YAK.
How does the merger go, launching TAHE as a new brand replacing BIC? It went better than expected. We have kept our distribution network while redirecting all digital properties to TAHE which has been very helpful in ensuring that customers find the new brand. It also helps that we are all the same people, management and abilities, which makes it pretty transparent at the distribution level.
Do you think customers will be confused by the name change? We have done our best to communicate the brand story and information about the change, which we have highlighted in our communications and on the TAHE website.
Is it difficult for a French company to gain ground on the American market? For BIC Sport, we have over 40 years of brand awareness, with the brand's history dating back to the early days of windsurfing. Now, with TAHE, we're moving all of that history and DNA forward with a whole new brand. We certainly have work to do to raise TAHE to the same level of notoriety as BIC Sport, but we are convinced that the product and our partners will succeed. BIC Sport and now TAHE products are distributed in over 90 countries, so we are rightfully a global water sports brand.
What are the difficulties and obstacles to overcome? Getting products to market is our number one priority right now. It is a huge challenge, not only for us, but in all sectors and in the world. We work hard to support our retail partners and end consumers by bringing products to market as quickly as possible.
How did the company weather the pandemic? Did he suffer from inventory problems? Absolutely, and these challenges continue today due to the latency impact of COVID on supply chains and shipping / logistics issues, which are concurrent with significant spikes in demand. Even labor shortages in the United States are impacting our ability to resume normal operations or support growing volumes. Everything that is reported in the media on these issues has some relevance to our business.
Your brands cover six water sports. Which segment is growing the fastest? We are seeing strong growth in all categories. Watersports are on fire right now at all levels, and now the emerging foiling activity is also gradual. We'll have to wait and see how much of that growth remains after the COVID dust subsides, but we expect it to take a few years and hopefully an increased baseline of active participants.
Which brand has the best tech story to tell? With TAHE, our Made in France technologies focused on sustainable manufacturing remain our pillar and remain unique on the market. SIC has the lightest and best performing race, downwind and foil boards with Superfly construction. CORE continues to be the leader in premium kitesurfing products and offers improved performance and progression for riders of all skill levels.
How is the foil market doing with SIC? We see Foil as the next emerging segment in many of our categories. SUP and Surf Foil are pretty niche, but Wing Foil is expected to be widely accessible and mainstream, and our 2022 offering will reflect this trend. In sailing, following the recent America's Cup cycles, windsurfing foil is now an Olympic class and TAHE is well positioned with the Techno Wind Foil package as a feeding class for clubs and schools. In Core, we also recently launched the SLC Foil program, which is selling well. We focus on the foil and we will adapt to the market as it develops.
How is SIC Maui, your premium brand, different from Tahe? SIC Maui was born in Hawaii and has a performance DNA from downwind and running disciplines. This influences everything on the SIC brand and is now moving to the foil market. TAHE is a family brand with a focus on recreational products. At the same time, TAHE continues the BIC Sport tradition of "one-design" racing for young participants with our Techno 293 windsurfing class, the largest windsurfing class in the world, and our Open Skiff dinghy for children.
Core focuses on kitesurfing. How is this market doing? As the name suggests, Core is about as focused and dedicated to premium, high performance kitesurfing gear as a brand could possibly be. This sheer focus is the key to Core's success in increasing its global market share in the otherwise mature kite market. Our newly released XR7 kite is a revolutionary product.
How does the premium sea kayaking market with Zegul compare in terms of growth to other water sports niches in TAHE? Zegul is currently focusing on the European and Scandinavian markets as the product is built and designed in Estonia. There is a lot of work to be done on all our brands since the creation of the TAHE Outdoors group. Zegul is currently receiving similar attention, with plans for outside Europe in the future.
Photos courtesy of TAHE