An epic finish for kayaker Ladner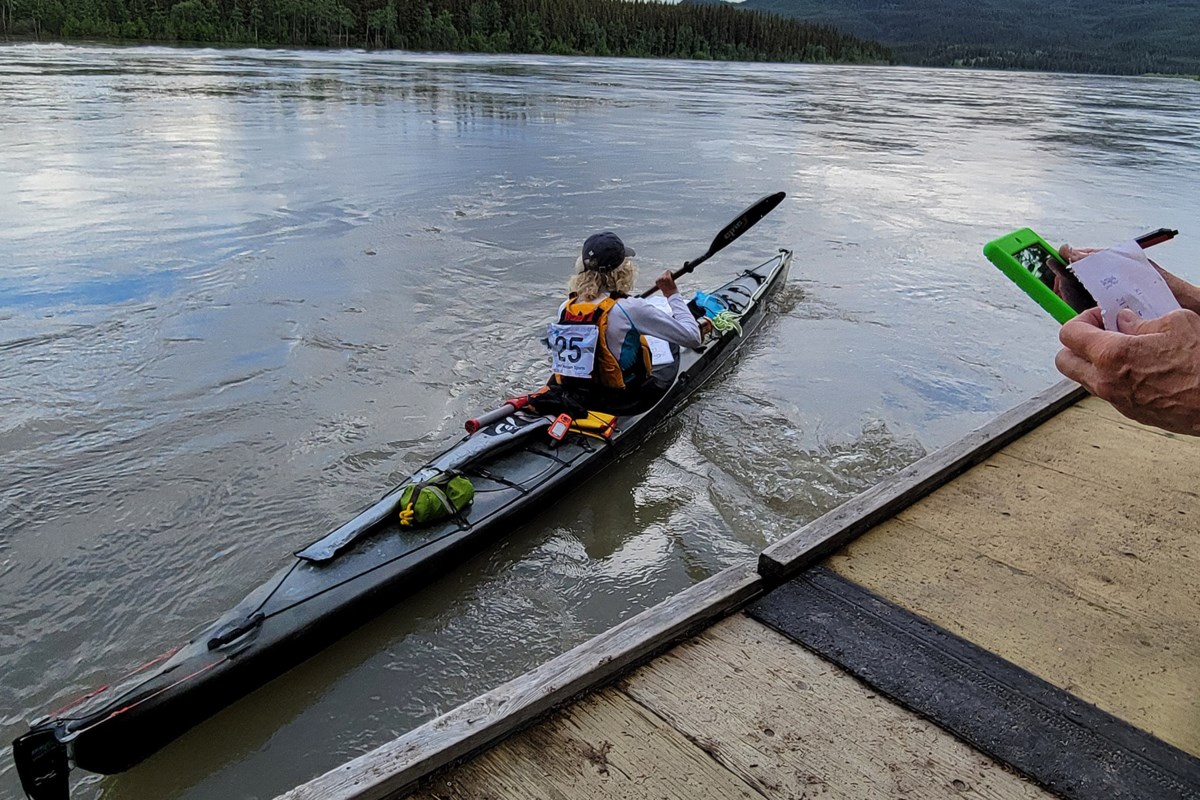 Pat Jones more than holds her place in the international race as the oldest competitor to finish
At 68, Pat Jones not only completed a 715 km kayak race on the Yukon River, she won almost everything.
The Ladner resident is back home after a stunning performance at 22n/a edition of the Yukon River Quest. The world's longest annual kayak/canoe event, from Whitehorse to Dawson City, attracts paddlers from around the world to race on one of North America's largest rivers.
Jones overcame what was considered dangerous high water conditions to complete the trek in 55 hours, 46 minutes and 34 seconds, finishing just over two hours behind 39-year-old winner Mirjam Fleming (53:43:02) in the female solo. kayak category. The performance earned him second prize of a silver canoe pendant with six gold nuggets.
When the event first took place in 1999, it was restricted to canoes, then expanded to kayaks and eventually stand-up paddleboards, with individuals, tandems and teams competing. Including the men, Jones finished eighth overall in the solo kayak, 14e among all solo competitors and 43rd globally. Not bad for the oldest competitor to finish the race.
Kayaking has become a big part of Jones' life as his way of staying active due to hip replacement surgery and bad knees limiting his other options. She's usually out on the waters of Ladner Harbor with her husband even building her a dock outside their waterfront condo.
His first attempt at the Yukon River Quest in 2019 proved to be a tough lesson learned.
"I wasn't eating properly and had no idea I couldn't eat a full meal at once paddling at this pace. I had severe stomach pains and had to drop out of the race," said Jones, a longtime educational assistant at Delta Secondary before retiring.
With COVID putting racing on hiatus for two years, Jones was ready to try again, although it almost never happened after her partner had to pull out at the last minute. She decided to continue traveling to Whitehorse on her own, then got a huge boost when 2018 Solo Kayak winner Erin Geisbrecht agreed to be her support team.
"A bad thing turned into an amazing thing," Jones laughed. "I wouldn't have done so well without Erin. She was just amazing!"
Also known as "Race in the Midnight Sun", the event takes place at a time of year when there is essentially 24 hours of daylight. Competitors must complete the race in less than 85 hours and basic survival gear is required. There are six checkpoints and two mandatory stops at Caramacks (304 km run) and Minto Resort for a combined minimum of 10 hours.
Jones needed an early two-hour stop at Big Salmon just to catch up on sleep after being kept awake the night before the race by construction work across from her accommodation. She thrived the rest of the way, hitting speeds of up to 14 mph, even with a few harrowing moments.
"When I left iMinto, the fog was so thick I couldn't even see 100 yards ahead of me and nearly hit a ferry barge," Jones added. "There were also long stretches that you couldn't stop due to the river flooding about four feet high among the trees on the shore."
She is already making arrangements to return to the Yukon for the 2023 race.