American Legion of Carthage Honors Fifth Grade Student Who Helped Injured Kayaker | Jefferson County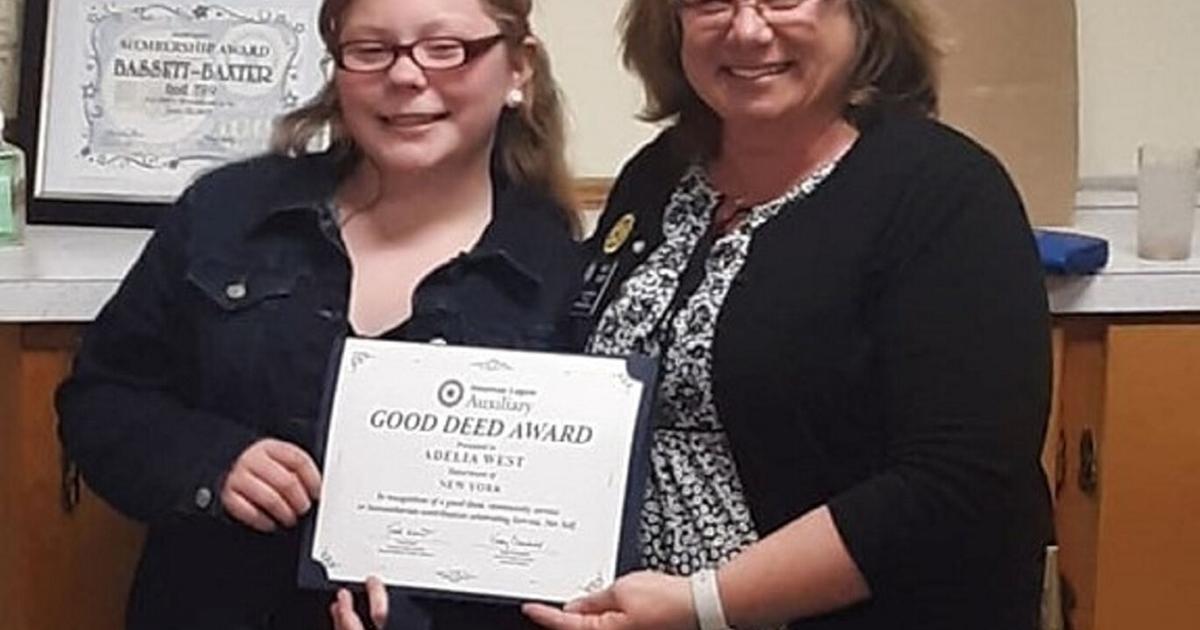 CARTHAGE – Seeing a young man walking down the road, wet and battered, many passed by without offering any help. But not a single young woman.
Adelia M. West, 11, was playing with her sister, Alacia M., outside their West End Avenue home on April 9 when she saw a young man walking across the road, her mother Jennika said Mr. West.
Ms West said the man was only wearing a life jacket and wet trousers, having used his shirt as a tourniquet for his leg injury.
"Adelia came running into the house and said, 'Mom, come outside, there's a man outside and I think there's something wrong with him,'" she said. I came out and yelled at him to see if he was okay. He turned around and said, "No. I called him and called 911. My family sat him down and wrapped him in blankets until help arrived.
Adelia, a fifth-grade student at Carthage Middle School, said she didn't know what to think when she first saw the man.
"I knew something was wrong," she said. "He didn't look well."
The man, Michael Zapalac, said he had a kayaking accident.
"By the time I saw her I had two major leg lacerations, one of my trouser legs was ripped off and I was using my life jacket as a shirt and my shirt as a makeshift bandage for my leg," he said. "I was walking down the street to my flat and tried to flag down several drivers for help. I couldn't stop anyone until Adelia saw me walking down the road. I kept walking but as far as I know she stopped playing outside, rushed to tell her mom and even tried to help get some towels when her mom and dad stopped me for help.
Mr. Zapalac had tried to stop his kayak as it approached the dam. The anchor grabbed his leg, swung him out of the kayak and he went over the dam. He was sent to a hospital in Syracuse for treatment and released the next day.
Kelly J. Scott, second vice president of Bassett-Baxter American Legion Auxiliary Unit 789, learned of the incident through a post shared on social media. Ms. Scott, who is also Chair of the Children and Youth Committee, nominated Adelia for the Youth Good Deed Award sponsored by the American Legion Auxiliary Department of New York.
"The aim of the award is to showcase our young people who go above and beyond without the thought of personal gain – the innocence of youth – and to echo other young people to do the same; encourage helpfulness and friendliness," Ms. Scott said.
The national award, created in 2002, is given to a young person aged 17 or younger who demonstrates a physical act of bravery, such as performing the Heimlich maneuver; perform CPR, administer first aid or rescue in case of fire or water hazard.
Mr. Zapalac, who serves in the military and is stationed at Fort Drum, supported the nomination for the award.
"I was extremely lucky that Adelia took action as I was 2.7km from my apartment and I don't know if I would have made the full trip as I was in relatively poor condition," he said. -he declares. "She stopped when others passed."
Ms West said she was proud of her daughter.
"She amazed us," Ms West said after receiving the award on May 4. "She knew how to come and tell us."
Ms. West said Mr. Zapalac was shaking and was likely hypothermic.
"She did the right thing," Adelia's father, Leon R. West, said.
Mr West said he was surprised the kayaker survived crossing the dam as the river was high at the time and there were a lot of sharp rocks in that area.
"I was just happy to help someone," Adelia said.